Recipes
Enjoy our Recipes!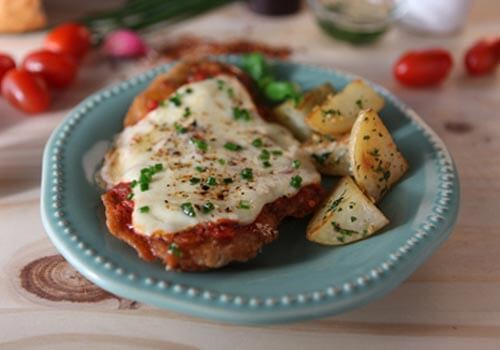 Napolitan Milanese
Dish type: Main Course
Difficulty: Easy
Related Products: Low Fat
Ingredients

| | |
| --- | --- |
| 500g | of Beef for Milanese |
| 4 | Eggs |
| to taste | Oregano or Parsley |
| to taste | Salt and Pepper |
| 400g | Breadcrumbs |
| to taste | Thick tomato sauce (Neapolitan) (2 tablespoons per Milanese) |
| to taste | Ham Slices and Punta del Agua Soft Cheese (1 or 2 per milanesa, depending on its size) |
| Optional | Olives and Oregano for sprinkling |
| as needed | Oil for frying |
Instructions

1

Marinate the beefs with salt, pepper and oregano.

2

Pass the beefs through breadcrumbs.

3

Beat the eggs and dip the beefs into them. Then pass the beefs through breadcrumbs again.

4

Fry each side beefs for some minutes or until the golden brown and meat is cooked through. Remove them and drain them on absorbent paper.

5

On a baking sheet lay out all the fried milanesas. Top each one with tomato sauce, a sliced ham and a portion of Punta del Agua Soft Cheese.

6

Bake at very hot oven for about 5 minutes and that's all!
Finish with by topping each milanesa some olive slices sprinkle then with oregano (or parsley) to taste. You can garnish with with mashed potatoes, french fries or a salad.