Recipes
Enjoy our Recipes!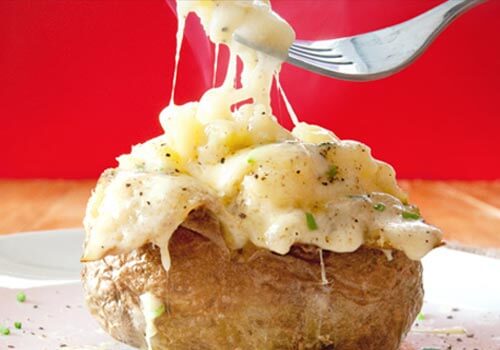 Stuffed Potatoes
Dish type: Garnish
Difficulty: Medium
Related Products: Low Fat
Ingredients

| | |
| --- | --- |
| 2 | Medium Potatoes |
| 100g | Punta del Agua Soft Cheese |
| 1 | Oil |
| | Salt |
| 4 | Parsley Leaves |
Instructions

1

Add 1 tablespoon of coarse salt and bring the water to a rolling boil. Do not peel the potatoes skin and place them in a pot with boiling water.

2

After 20 minutes use a fork and poke them to the center to check doneness.
Be careful not to prick potatoes too many times because when it is cooked it will fall apart!

3

After 25/30 minutes remove potatoes from the pot and place them on a plate. Then remove the potatoes top part, cutting them in "V" or horizontal "O" shape.

4

Place Punta del Agua Soft Cheese and thinly chopped parsley into a bowl, you can also add a small garlic clove. Pour a little olive and let them macerate while potatoes cook.

5

Spoon the mixture filling to the potatoes.

6

After filling the potatoes bake them for 7 minutes in the oven or for 3 to 4 minutes in the microwave.
It is ready to enjoy! They are a wonderful side dish for American style meat with bbq sauce or fried chicken (wings, etc).