Hard Grating Cheeses
They are matured in a controlled atmosphere. They have an intense flavor and a distinctive touch.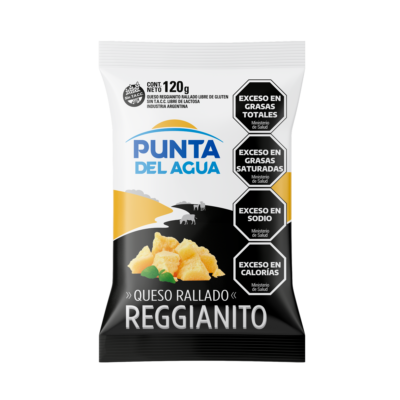 Reggianito Cheese Grated per 120g
Description
Reggianito Cheese has a hard consistency, compact, brittle and grainy texture. It has a slightly spicy and salty flavor. Its color is white-yellowish.
Presentation
120g sachet.
Usage
It is salty, grating cheese with a grainy texture. The light straw yellow colour paste and robust flavour of Reggianito goes well with pasta and baked vegetable dishes.
Nutrition Fact
Serving size 30g (1 slice)
Amount per Serving
%DV(*)
Calories
48.6 kcal = 203.3 kJ
2
Carbohydrates
0 g
0
Protein
4,5 g
6
Total Fat
3,4 g
6
Saturated Fat
2,1 g
10
Sodium
90 mg
4
Does not provide significant amounts of trans fats and dietary fiber. (*)The % Daily Values (DV) tells you how much a nutrient is a serving of food contributes to daily diet. 2,000 calories a day is used for general nutririon advice. INGREDIENTS: Partially skimmed milk, lactic ferments, coagulating enzymes, calcium chloride, and sodium chloride. Annato. CONTAINS MILK.