Soft Cheeses
It has a fresh and lactic flavor with a delicate texture.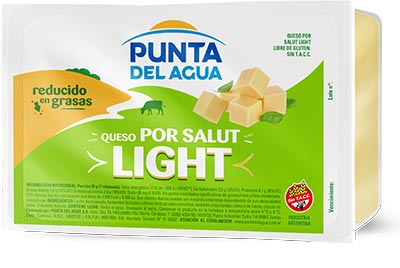 Por-Salut Light Cheese
Description
Por-Salut Light Cheese is reduced in fat. It has a smooth paste and mild flavor with a soft texture.
Presentation
Vacuum packed. Heat-shrinkable bags presentation.
Usage
It is mainly used in diets. It is perfect for breakfasts and snacks and most often used for gratin.
Nutrition Fact
Serving size 30g (1 slice)
Amount per Serving
%DV(*)
Calories
77 Kcal = 320KJ
4
Carbohydrates
0,5 g
0
Protein
6,1 g
8
Total Fat
5,6 g
10
Saturated Fat
3,6 g
16
Sodium
96 mg
4
Does not provide significant amounts of trans fats and dietary fiber. (*)The % Daily Values (DV) tells you how much a nutrient is a serving of food contributes to daily diet. 2,000 calories a day is used for general nutririon advice. INGREDIENTS: Skim milk, lactic ferments (selected lactic cultures), coagulating enzymes, calcium chloride and sodium chloride. Annato. CONTAINS MILK.


GLUTEN FREE.

Suitable for people with coeliac disease.