Cream and Milk Powder
They are made from high quality raw material.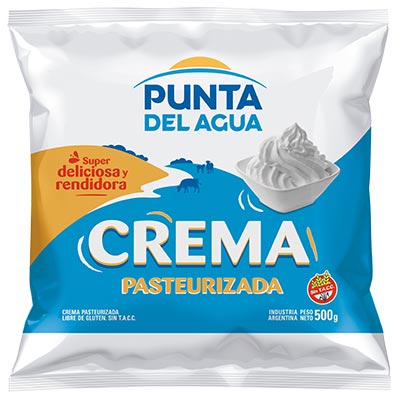 Pasteurized Cream 500g
Description
Punta del Agua Cream is made from our dairy farms milk. We use strict quality control to centrifugate and pasteurizate it.
Presentation
500g sachet.
Usage
It is used as an ingredient in many foods, including ice cream, many sauces, soups, stews, puddings, and some custard bases, and is also used for cakes.
Nutrition Fact
Serving size 15g (1 y 1/2 tps)
Amount per Serving
%DV(*)
Calories
54kcal = 22 kJ
3
Total Fat
6,0g
11
Saturated Fat
3,9 g
18
Sodium
3 mg
0
Does not provide significant amounts of trans fats and dietary fiber. (*)The % Daily Values (DV) tells you how much a nutrient is a serving of food contributes to daily diet. 2,000 calories a day is used for general nutririon advice.
INGREDIENTS: Pasteurized milk cream. CONTAINS MILK DERIVATIVES.


GLUTEN FREE.

Suitable for people with coeliac disease.