Firm Cheeses
They are perfect for accompanying meals and snacks.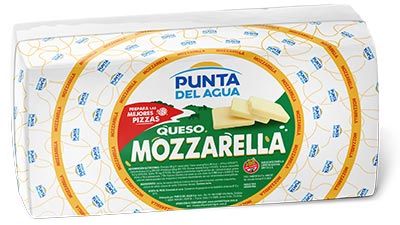 Mozzarella Cheese Pack
Description
Mozzarella is a semi-hard cheese, with a fibrous, elastic and closed texture. Its color is yellowish-white and uniform. Its lactic flavor is not very developed.
Presentation
Vacuum packed. Heat-shrinkable bags presentation.
Usage
It is excellent for cooking hot and cold dishes, mainly pizzas, pies and salads.
Nutrition Fact
Serving size 30g (1 slice)
Amount per Serving
%DV(*)
Calories
99 kcal = 415 kJ
5
Carbohydrates
0,3 g
0
Protein
6,6 g
9
Total Fat
8,0 g
14
Saturated Fat
5,2 g
23
Sodium
75 mg
3
Does not provide significant amounts of trans fats and dietary fiber. (*)The % Daily Values (DV) tells you how much a nutrient is a serving of food contributes to daily diet. 2,000 calories a day is used for general nutririon advice. INGREDIENTS: Milk, lactic ferments (selected lactic cultures), coagulating enzymes, calcium chloride and sodium chloride. Annato. CONTAINS MILK.


GLUTEN FREE.

Suitable for people with coeliac disease.