Milk Caramel
It is creamy and perfectly sweet with a beautiful nutty color and wonderful depth of flavor.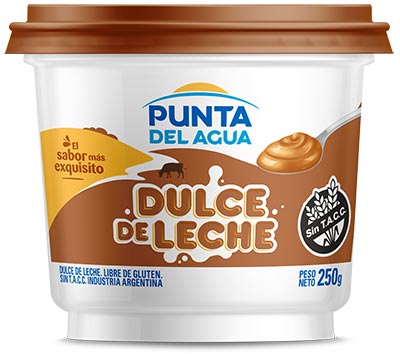 Milk Caramel 250g
Description
Dulce de Leche Punta del Agua is manufactured by combining high quality raw ingredients and preserving a handmade touch. It has a soft, smooth texture and a subtle and pleasant flavor.
Presentation
250g packaging. 24 units per box.
Usage
It is perfect for breakfast, snacks and desserts.
Nutrition Fact
Serving size 20g (1 tps)
Amount per Serving
%DV(*)
Calories
66kcal = 275kJ
3
Carbohydrates
12g
4
Protein
1,2g
2
Total Fat
1,4g
3
Saturated Fat
0,9g
4
Sodium
28mg
1
Does not provide significant amounts of trans fats and dietary fiber. (*)The % Daily Values (DV) tells you how much a nutrient is a serving of food contributes to daily diet. 2,000 calories a day is used for general nutririon advice.
INGREDIENTS: Milk, sugar, glucose, acidity regulator (sodium bicarbonate), preservative (potassium sorbate) and flavoring (ethyl vanillin). CONTAINS MILK.
APPROXIMATE PERCENTAGE CHEMICAL COMPOSITION:
MOISTURE: MAX 30% – FAT: 6 TO 9% – ASH: MAX 2% – PROTEIN: MAX 2% – FAT: 6 TO 9%.
ASH: MAX 2% – PROTEIN: MIN 5%.


GLUTEN FREE.

Suitable for people with coeliac disease.